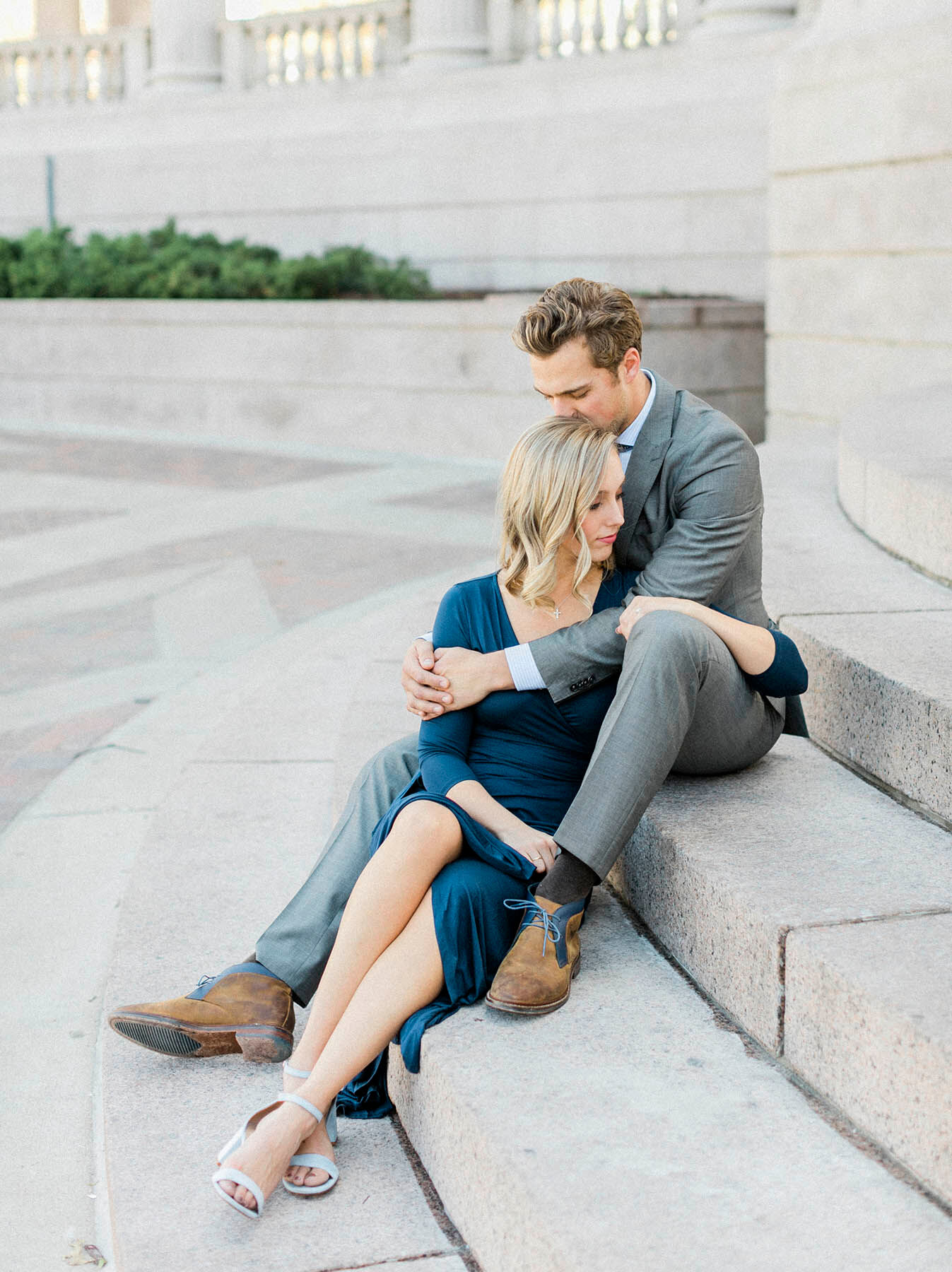 Engagement sessions are one of my favorite things to photograph. It allows me a chance to get to the know couple before the wedding. It's a time to see them as just two people in love, and I'm a huge lover of love. Any moment when couples get to spend time together having fun, kissing, cuddling or just hanging out together, allows for them to reconnect and slow down from all the hustle and bustle of planning their wedding. Most importantly, it lets them get to know me in a less stressful way. Engagement sessions are a win-win for everyone involved.
Now let's get to some real talk.
My approach to wedding and engagement photography is different. From the first moment we meet, I observe you interact with one another very closely. Some couples are very physical and joined at the hip. Other couples playfully give each other a hard time, while some couples meet each other on an intellectual level and they'd rather have an in-depth conversation across the table. None of these are wrong; it just shows me the points that you two connect on. This is based on the 5 Love Languages, a book by Gary Chapman. I can't recommend this book enough, and I encourage all couples to read it. You can read more about the 5 Love Languages here. I find that when I know a couple's way of communicating love to each other, it informs how I can create a more comfortable engagement session for them. And when a photography session is stress-free, it shows in the photos later on.
Keep scrolling if you want to hear a few reasons I think engagement sessions are great.

They give you a chance to connect with your wedding photographer.
The more time you spend with your photographer, the more comfortable you'll become in front the lens. When you relax, your quirks and preferences come out which make your photographs more authentic to you. When your wedding day comes, you'll feel so much more at ease with your photographer, and they won't feel like a stranger. Remember, your photographer is a person who will be with you for HOURS on your wedding day, capturing intimate moments and unique details, and documenting one of the most significant and emotional day(s) of your life.
In all honesty, if you don't have a good working relationship with your photographer, things have the potential to get pretty awkward. When you have an engagement session, it allows you to spend productive time with your photographer and get to know them.
They're a chance to focus on your fiancé and no one else.
Shut out any lingering awkward memories of school photos and painfully posed prom photos; your engagement session is all about the unique love you share with your fiance.  This is an opportunity to show what your life together is really like. Are you dog lovers? Bring your dog! Brainstorm with your spouse-to-be to make it more personal and fun for you both.
It's an opportunity for a test run.
Your engagement session is a perfect chance to test out your wedding makeup and maybe even hair. This allows you the chance to see how everything looks in person, and on film.
Focus on your love, not the fancy clothes.
Your wedding portraits will be admired forever, but having professional portraits of the two of you in more everyday clothing gives you lasting images that you can use in so many different ways. While your wedding photos will be associated with one specific event, your engagement photos focus on you two as a strong couple in the world.  
You get to spend time in a place you love.
One of the things I love doing and encourage couples to do is home lifestyle sessions. The adage, "home is where the heart is" couldn't be truer. Your love extends beyond just the couple; it's about the home they've created with each other. When you have your engagement session in your home, it highlights your way of life and how you connect as a couple and spend time in a nurturing place of comfort.
Your love is uniquely yours, so your engagement photo session should document it in its authenticity. Create an heirloom of your love that you'll remember years from now, in all of its small, intimate, and beautifully vulnerable moments.