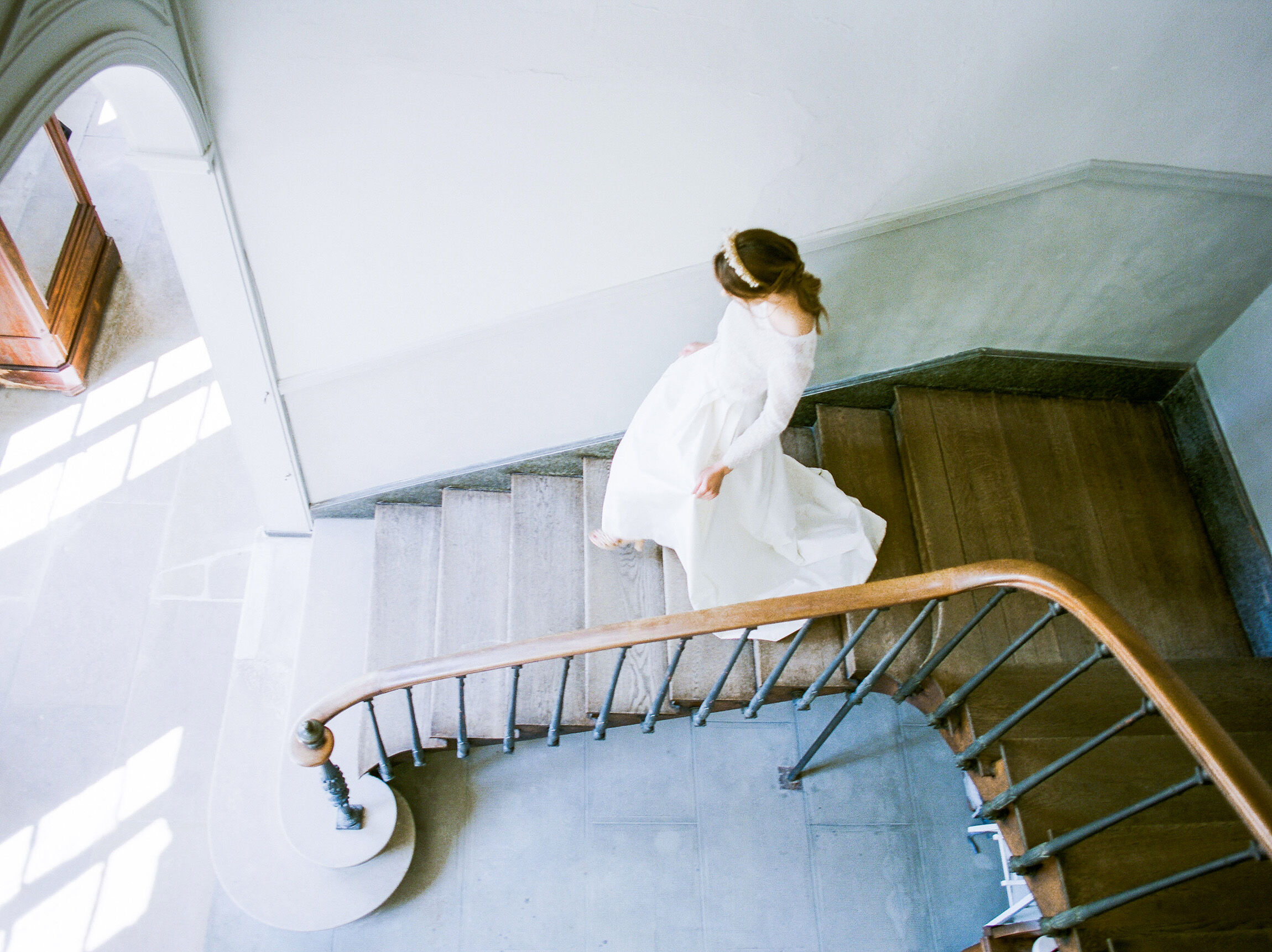 Private bridal shoot allows for a  more relaxed environment for being in front of the camera.
A common reflection that brides voice is, "Wow! I can't believe how fast my wedding went by. I blinked and it was over." From the moment the bride wakes up on the morning of her wedding, to her first steps down the aisle, she is enveloped in a flurry of excitement, hustle bustle, and the occasional bout of passing nerves. As a result, photographers seldom have more than 15 minutes to capture just the bride in her gown. Not to mention that these photos are often at the mercy of numerous factors such as, time of day, lighting, how much sleep the bride got the night before, and where at the venue the pictures can take place. 
Partnering with a photographer and a professional bridal stylist to create a bridal shoot before the wedding day allows for a more relaxed and intentional environment. This option is especially appealing to the bride who is a little nervous about being in front of the camera. Having a separate bridal shoot allows the photographer to take a more laid back approach, capturing all the best angles and making the bride feel entirely at ease. 
A private bridal shoot is a great way to put that hair and makeup trial to good use.

Practice makes perfect and most brides opt for a hair and makeup trial prior to their wedding day. However, an iPhone picture of wedding hair and makeup only goes so far when checking to see how it will look in pictures. Scheduling a bridal shoot on the same day as the hair and makeup trial is a fabulous way for brides to give their new do a go. 
Brides should be sure to consult their bridal stylist regarding the best hairstyle choices for the neckline on their gown. If there will be an outfit change (or two) throughout the wedding day, they should be sure to choose a flexible style that won't require overusing hairspray. 
As a bonus, brides can request a practice (smaller) version of their wedding bouquet as a test run to use in their bridal shoot. 
Bridal portraits are heirlooms.
Renowned bridal stylist, Gabrielle Hurwitz said, "Your wedding dress is the most important article of clothing you'll ever wear, and how you feel in your wedding dress will determine how you feel throughout your entire wedding day." It is true, no greater fuss has ever been made over any other article of clothing. These images will be framed and remembered for years to come and by generations of family and friends. 15-30 minutes is hardly enough time to commit to such a grand occasion. 
Traditionally, the images taken can be displayed at the wedding reception and can be sent out as gifts to family members. This is also a wonderful opportunity to create an album for the spouse-to be as a keepsake from the wedding day.